Cone Beam CT in Longmont, CO
Looking for a CBCT in Longmont? If so, we can help. Longmont Dental Loft is one of the few dental offices in the area that have this amazing piece of technology. Not only does it help us do a better job of treatment planning, but it also helps make the dental experience more convenient for you.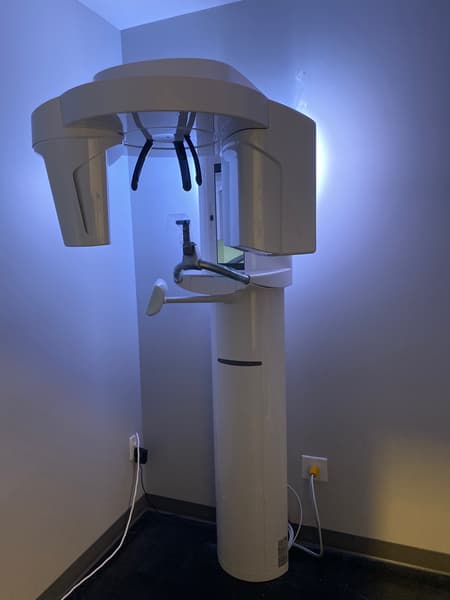 What is a CBCT?
CBCT stands for cone beam computer tomography and it's also known as a Cone beam CT. The name is derived from the shape of the X-ray beam as its cone shaped.
Since cone beam CT machines are a significant investment most dental offices don't have this technology. Longmont Dental Loft has owned and operated a CBCT since February of 2019 and it's been amazing. Having a CBCT in our Longmont dental practice has enabled us to provide even better dental care.
Unlike a traditional X-ray that is only in 2D, CBCT images are in 3D. Plus, it produces hundreds of images during a single rotation. This is extremely useful as it provides Dr. Hedrick with more information than she would get with a traditional X-ray. And in dentistry, the more information that we have, the better.
The CBCT shares similarities with a traditional CT that you would find in a hospital, however it was developed specially for dentists and oral surgeons. Therefore, it's better suited for oral care than a traditional CT.
What is the process for a CBCT?
A CBCT is a simple process where you can either sit or stand for the scans. It's important that you're not moving while the scan is taking place, but you won't have to worry about freezing in place for very long the scan is a fast process. It will just take about 10 seconds to complete a full mouth scan where hundreds of images are taken. After the images are taken the computer will reconstruct all those images so they can be easily viewed by the dentist.
What Does a Cone Beam CT Show?
The images from a CBCT are high quality and will show 3D images of the teeth, bone, gums, and nerves. It's simply not possible to get this much information from a traditional X-Ray. As a result, it gives us a much clearer picture of your mouth.
One of the most incredible things about a CBCT is it allows dentists to view cross sections of the head and neck. For example, multiple X-rays are combined into slices that allow the dentist to have an interactive viewing experience. Being able to see cross sections ensures accuracy of treatment planning.
CBCT vs Traditional X-ray
Unlike traditional X-rays, a CBCT is in 3 dimensional. Regarding those 3D images, the CBCT will take many more pictures from a scan than a traditional X-ray is capable of. Plus, it's an interactive experience where the dentist can view cross sections of your mouth.
Due to the CBCT being 3D and having hundreds of additional images, it allows for better treatment planning than you could get with traditional X-rays.
Cone Beam CT vs Traditional CT
As mentioned, CBCT's were designed for dentists. Therefore, they are better suited towards oral health than a traditional CT. For example, the images are just as accurate but there is less radiation. It's also highly convenient for you as you can get your scan performed in our Longmont office rather than taking an additional trip to a hospital.
Uses for the CBCT in Dentistry
Access airways for sleep studies
Implant placement
Infections
Periodontal tissues
Sinuses
Teeth that we can't see on a regular X-ray
temporomandibular joints (TMJ)
How Does a CBCT Help for Placing Dental Implants?
One of the great things about a CBCT is how it allows us to optimize implant placement. For example, it will give us information to avoid areas of low bone density as well as structures like nerves, sinuses, and tooth roots.
How to Prepare for a CBCT Scan
Luckily, there isn't much needed to prepare for a CBCT. Before taking the scan, we will ask you to remove all metal jewelry as well as eyeglasses. And if you are pregnant please let us know before proceeding with the scan.
CBCT Appointments for Other Clinicians in Longmont and Niwot
If you are a healthcare provider in Longmont or Niwot that needs to refer a patient out for a CBCT we would be happy to help. Please contact our office at 303-772-6333 and we can provide additional information.
Do I need to be an existing patient for a CBCT?
We realize that most dental offices don't have cone beam CT's. It's not necessary to be an existing patient of ours for a CBCT. If you're in need of a Cone Beam CT in Longmont and not a patient of ours, we would be happy to help you. Please call our office at 303-772-6663 our office for additional information.