Longmont Teeth Cleanings
As your Longmont Teeth Cleaning specialist, we can help you maintain your oral health. From your hygiene appointment with Andrea, Hannah, or Natalie to your exam with Dr. Hedrick, you will be well taken care of at Longmont Dental Loft.
What is a Teeth Cleaning?
Teeth cleanings at a dental office is a form of preventive dental care. It's also referred to as a hygiene appointment. They have two parts: an exam (checkup) as well as a dental cleaning.
Dental checkups and cleanings are done to protect oral health as well as protect the overall health of your body. For example, if someone gets periodontal disease in their gums, it can spread bacteria to the rest of their body causing more issues. Identifying and treating these issues before they cause a lot of problems in the future can prevent the need for more treatment as well as save you money.
Checkup
The checkup portion of the visit can include taking a 3D scan of your teeth, x-ray images, photographs, evaluation for tooth decay, gum disease, and oral cancer.
Cleaning
The cleaning portion of the visit can include removing plaque, tartar, reducing bacteria in your gums with an ultrasonic, and polishing teeth.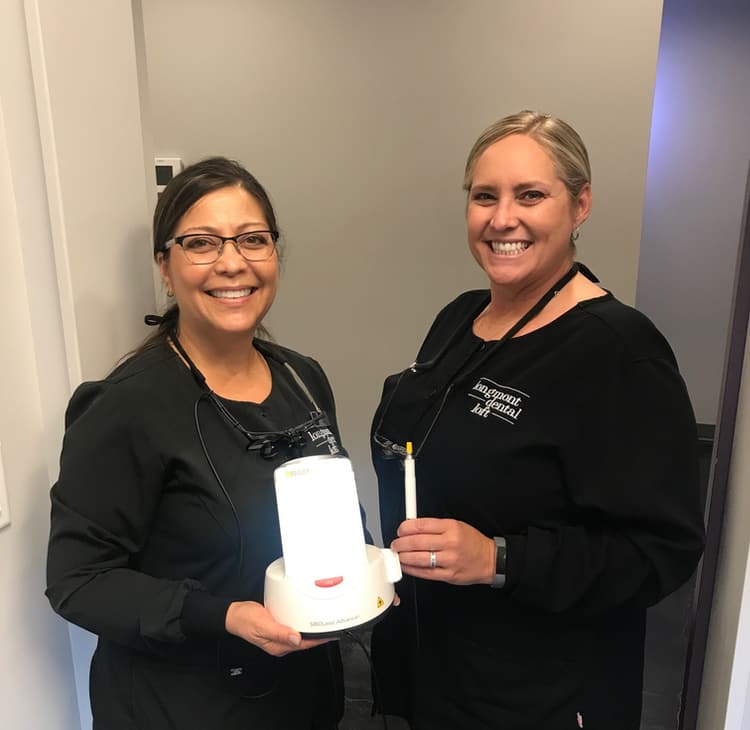 How Often do I Need to Have my Teeth Cleaned?
Dental exams and cleanings are scheduled at regular intervals depending on your specific needs. Most people with a healthy mouth will have a dental checkup and cleaning every six months. However, if you have gum disease then you may need to be seen more often, as we mention on this blog post on how often to see the dentist.  If you're not sure how often you should visit us, Dr. Hedrick and our hygienists will work with you to determine the appropriate schedule for your hygiene appointments.
Dental Checkup and Cleaning Process
If this will be your first visit to our Longmont office, we will need your contact information, insurance information, and your medical history. During the intake phase we learn about your history so that we can provide the best care for you. Not only will we be asking questions regarding your medical information, but we will ask questions regarding what you're looking for in a dental experience. After all, we want to be able to exceed your expectations and provide a terrific experience.
Your temperature and medical history are reviewed at each checkup. An oral cancer screening and airway assessment is also performed. X-ray images and photographs are taken as needed. On average, x-ray images are taken annually to look for any changes or teeth problems. Sometimes we use a 3D scanner to look at how your teeth fit together. With this technology we can also simulate how it would look to straighten your teeth and track any changes with receding gums.
At each checkup visit, the spaces between your gums and your teeth are gently measured to check for infections and to see if there are areas that are unhealthy. Deeper areas between your gums and your teeth that you cannot keep clean harbor bacteria. This can lead to tooth loss and other health problems. Our hygienists will let you know if they see any areas like this in your mouth and discuss with you how to best treat them.
After your teeth are carefully and thoroughly cleaned, Dr Hedrick will use the information that our hygienists have gathered with 3D scans, x-ray images, photographs, and gum measurements to determine if you need any additional care. She will answer any questions you may have about your teeth and gums.
Do I Need Fluoride during my Teeth Cleaning?
Fluoride is a natural mineral that builds strong teeth and prevents cavities. It can help strengthen weaker areas like exposed root surfaces and prevent cavities. It is also beneficial for sensitive teeth. A fluoride treatment can be easily applied after your teeth are cleaned. Ask Dr. Hedrick or your hygienist if a fluoride varnish treatment would be recommended for you.
What is Periodontal Disease?
Also referred to as gum disease or periodontitis, periodontal disease is an infection of gum tissue and loss of bone around teeth. It is caused by bacteria and deposits trapped under the gumline. Symptoms can include gums that bleed, teeth that shift out of place over time, receding gums, and bad breath.
If you have periodontal disease, it requires professional treatment. If not treated properly it can cause bone loss, loss of teeth, and even spread bacteria to the rest of your body.
After you get periodontal disease, you will always have to maintain the gums. It is like a diabetic who is constantly maintaining a disease. This is one of the reasons why it is so important to practice good oral hygiene at home. Maintaining a regular schedule for hygiene appointments and having Dr Hedrick evaluate your mouth will help detect problems early.
Scaling and Root Planing
Also referred to as deep cleaning, this is how gum disease is treated. It is a non-surgical procedure where teeth are thoroughly cleaned below the gum line. Anesthetic is used to make sure you are comfortable. A soft tissue laser can be used during this procedure to remove bacteria and unhealthy tissue. The laser helps the gums to heal quicker and has a better outcome than we have been able to achieve before. Periodontal cleanings take more time than a healthy-mouth cleaning. These appointments include a very detailed, deeper cleaning to remove deposits that keep the gums from healing.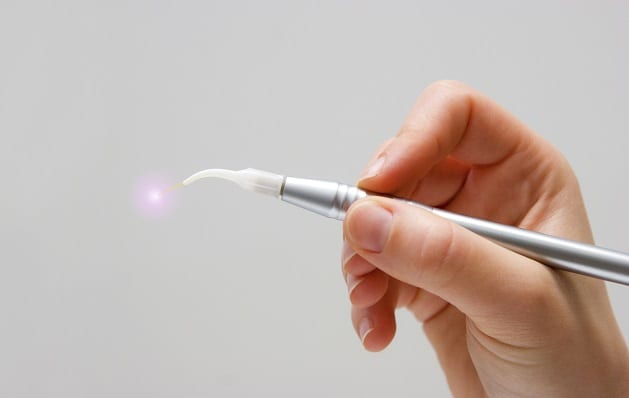 Soft Tissue Laser
Lasers are starting to be more common in dentistry. Soft tissue lasers can be used at any appointment to reduce bacteria in your gums, and during periodontal cleanings to remove diseased non-healing tissue. Most dental offices do not have soft tissue lasers, so we are very fortunate to have one at Longmont Dental Loft.
Why choose Longmont Dental Loft for Teeth Cleanings?
In our opinion a great teeth cleaning comes down to the people and the technology. From the moment you walk into our office and speak with one of our patient coordinators, you'll notice our warm and safe atmosphere.
When your cleaning starts, you'll be able to tell how warm and caring our hygienists. And not only are our hygienists enjoyable to be around, but they're also deeply experienced in hygiene. You can be sure that they will provide the top care you deserve. And of course, Dr. Hedrick will participate with your exam as well as the dentist.
Regarding technology, our office is packed with state-of-the-art technology. For example, we have an iTero scanner, CBCT, and a soft tissue laser. Together these amazing pieces of technology will enable us to not only provide better care, but also a better experience. If you have any questions about dental checkups and cleanings at our Longmont office, please contact our office at 303-772-6333.